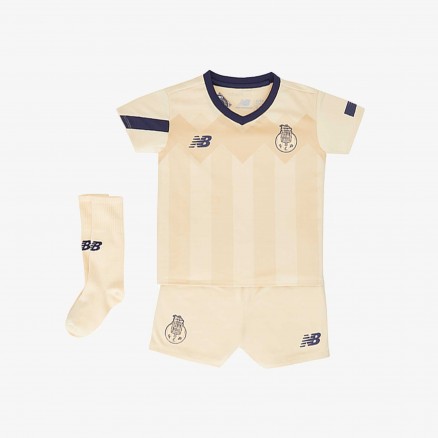 FC Porto 2023/24 Kids Mini Kit - Away
Not AvailableAvailableLimited Availability
1 year
2 years
4 Years
6 Years
Customization
Delete

Change Personalization
FC Porto 2023/24 children's mini kit consisting of a shirt, shorts and socks. The alternative kit is in shades of gold and all the details are in dark blue.
Bwin Liga Official Personalization: Color: Black | Outline: White
New Balance NB Dry

NB Dry is a proprietary technology of the Boston centred clothing manufacturer New Balance. Its aim is to keep the body dry and cool while an athlete is active. The fabric made with NB Dry is specially designed to wick sweat away from the body surface to the upper layers of the garment, where it can dry quicker while exposed to air. With this improvement, apparel made with HB Dry technology can be anatomically fitted to form around the athlete's body shape for ease of movement and still allow the same athlete not to overheat. In football uniforms, NB Dry fabric often features a gradient mesh engineered into it, which allows for improved air circulation around the body in contrast to traditional fabrics. It also often comes with laser cut and bonded eyelets placed below the arms to further increase breathability in the most vulnerable areas.
Fast shipments orders arrive in 2-3 days.

Need help ? Contact us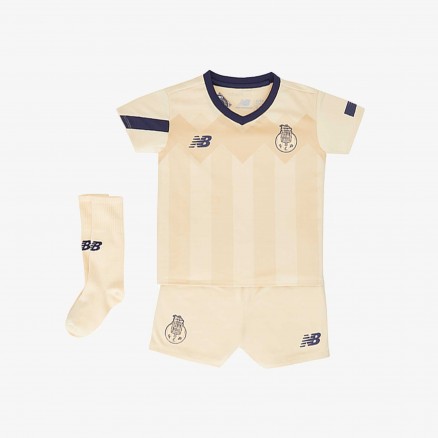 Search this Store
FC Porto 2023/24 Kids Mini Kit - Away
FC Porto 2023/24 Kids Mini Kit - Away
New Balance
Clothing